Linings can transform any marquee for any event, we only use linings & drapes manufactured for the marquee's as these conform the safety standards and fire regulations, although we use Ivory as our primary colour on all marquee's this can be changed by the use of coloured swags, overlays and window drapes. (see below)
With these options available, this allows you to add your touches and colour matching for your event (see the colour chart below).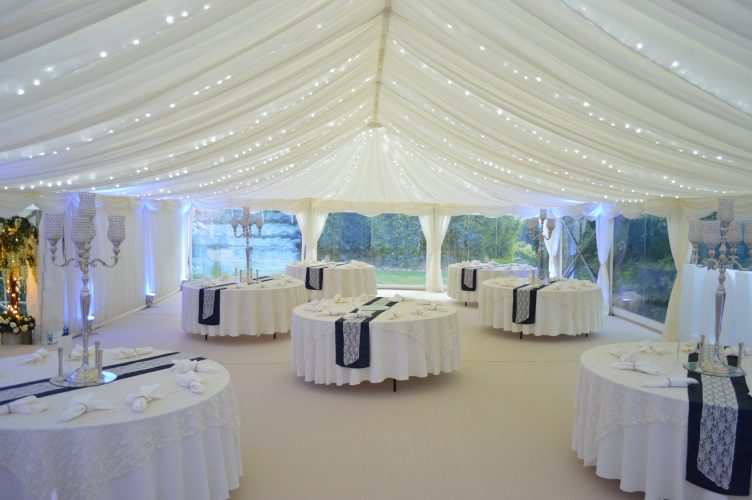 9m x 15m Clearspan Marquee At Hallsannery, Bideford, Devon
Marquee dressed with ivory pleated roof and walls complete with standard ivory swags.
Using the basic natural colours allows you to add your event decor with the colours of your choice, by the way of table center's, flower arrangements, table runners and more, the possibilities are endless if you have a little imagination.
Not only did the lighting we use enhance the look and feel of the marquee, the champagne carpet did so too, and gave the marquee an nice clean setting.
White Moor Farm Farm, Bishops Tawton, Devon
We were asked if we were able to put linings into a barn at White Moor Farm in Bishops Tawton, Devon.
We conducted a site visit, this gave us an insight as to the vision of the bride to be.
Again we used just standard ivory linings to make the impact look clean
Here is the before and after photo's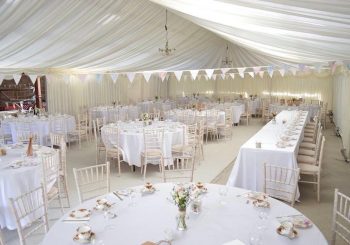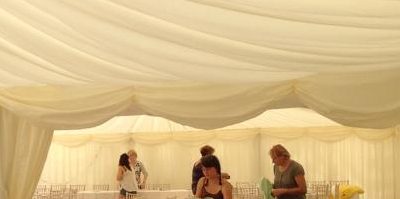 Standard Ivory Swags
Swags & Drapes
The Swags, Window drapes and Overlays are available in a range of colours, the colours below are from our main manufacturer and supplier of all our marquees specific colours will be hired in, however there are others available upon request.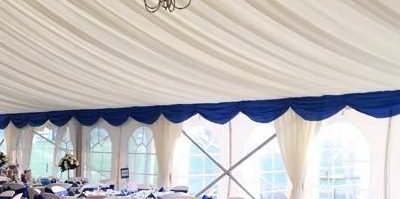 Royal Blue Swags
Colour Chart
(Subject to change without prior notice from manufacturer)

Gold

Silver
Bronze

Black

Duck Egg Blue Sky Blue

Royal Blue

Borage

Midnight Blue

Navy Blue

Purple

Lilac

Heather

Fushia

Pink

Plum

Burgundy

Red

Holly Red

Belgium Red

Mint Green Grass Green

Bottle Green

Terracotta

Turquoise Daffodil
Mustard Yellow Lemon

Champagne

Dark Chocolate

Milk Chocolate

Burnt Orange

Aubergine

Olive

Lime Green
We will be updating more as time goes by,
This will give you a little idea of what we can do.